| | | |
| --- | --- | --- |
| | | My paintings are a celebration of my faith, a celebration of the beautiful world we have, an expression of my love of nature and the beauty and peace I find there. I try to convey the joy of flowers and birds, their myriad of colors, textures and shapes. We take so much for granted and treat our Earth so uncaringly. I paint because it is fun, and I love to, but also from a deeper sense of awe, reverence and gratitude. We fail to understand that we are not distinct from nature. We are part of it. Nature is not "out there", it is in each of us. As you respond to my work, I know that I have expressed a bit of what I feel. Perhaps more importantly, I have inspired you to take a fresh look at the miracles around us. |
My studio is our land in Pentwater, Michigan - forests, fields and lakes. Also, I have several gardens including a water garden, wildflowers and perennials. These habitats attract the birds, butterflies and animals found in my paintings, fancifully perched in flowery bouquets or realistically portrayed in their environment.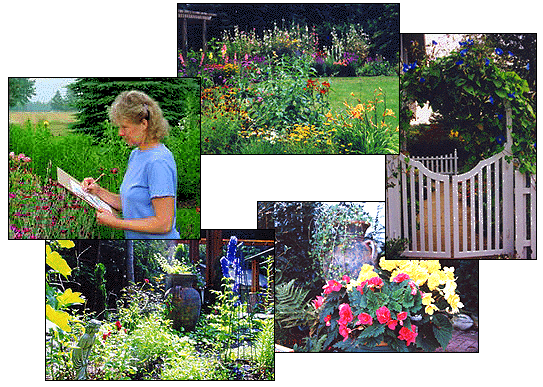 Working with transparent watercolors and tiny brushes in this highly detailed style, it often takes several weeks to complete a painting. The paint is applied layer upon layer of color and shadow until the desired effect is reached, finishing with the tiny details of veins and feathers.
At Adrian College, I majored in Fine Art and Elementary Education. I then taught elementary art for two years. My love of nature and natural artistic talent have since led to a full time profession as a watercolor artist.

I would love to have acres full of all the different flowers, all blooming at once and lasting forever. At least I can imagine it on paper! So when you see a painting with flowers that do not bloom at the same time, or with a bird "specially flown in", you will know what I was just dreaming.
AUDUBON SOCIETY - I was honored to have been one of five Michigan artists selected to illustrate the beautiful tabletop book, BIRDS OF MICHIGAN, published in connection with the Audubon Society.
PEACE AWARD - I was very moved to have received a Peacekeeper Award in 2005, given each year to people in local communities who distinguish themselves. The presenter's words, "Thank you Cyndy for making extraordinary out of ordinary, for sharing your unique vision of the world".
INVITATIONAL AND AWARD WINNING SHOWS
Selected as National Wildlife Artist of the Year, National Wildlife Art Show, Kansas City, KS. Many Best of Show and First Place in Watercolor at art shows throughout the Midwest, including Art in the Park, Petosky, MI; Fourth Street Art, Bloomington, IN; Crosby Gardens, Toledo, OH; St. Charles Art Fest, IL; Penrod Art Fest, Indianapolis, IN;Southeastern Wildlife Expo, Charleston, SC; Tarpon Springs Fine Art, Tarpon Springs, FL.
SOME OF MY COMMISSIONED AND LICENSED ARTWORK

| | | |
| --- | --- | --- |
| Sunrise / Hallmark | Sparrow Hospital, Lansing | National Wildlife Federation |
| Pimpernel | Meijer | Dimensions |
| Woodworkers and Weavers | Gifts of Sound | Airwaves |
| Fieldcrafts | Bradford Exchange | Katha Diddel Home Collections |
CYNDY CALLOG STUDIO
Our focus continues to be raising funds for scholarships and various nature / environmental organizations. Through our work, and with dedicated and generous support of friends and patrons, we have raised and donated over $175,000 over the past fifteen years.
P.O. Box 409, Pentwater, MI 49449
To e-mail Cyndy:
Cell 231-852-0268, Home 231-869-5211